Wrap Your Skin Smoothly
With Rich Cream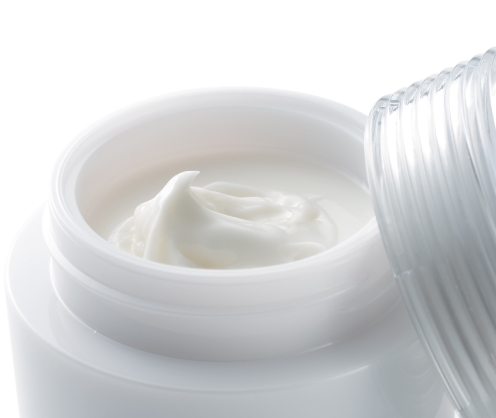 Rich cream with a veil-like texture that seals
moistness such as lotion, serum, and emulsion.
A luxurious moisturising cream with nourishing formula to
help leave you with bouncy, firm skin.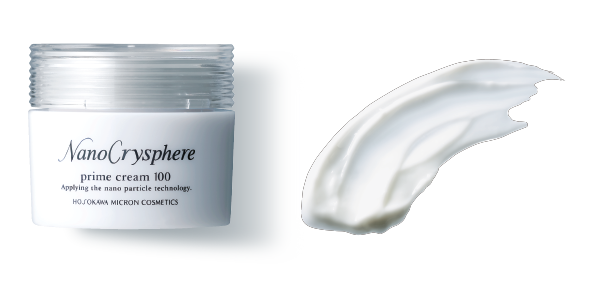 Take an appropriate
amount in your palm

After conditioning your skin with milky lotion, take an appropriate amout of cream in hand.

Put the cream on 5 points of your face

Put the cream on forehead, both cheeks, the tip of the nose and chin.

Stretch the cream
to the skin

Use a finger's belly and stretch the cream to the whole face by pressing with gentle touch.
Recommended Usage
If you concern about your smile lines
(nasolabial folds) ...
Once you apply cream along the smile lines, press
with your index finger along the lines to pull it up
toward the temple.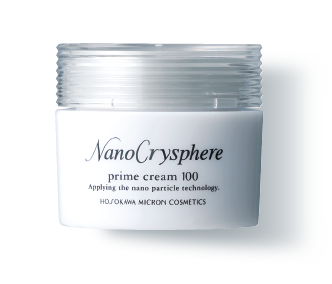 Moisturizer 30g / for about 1 month use
JPY6,000 (Japan market price)
Note: Please request a quotation for the distributor price.
Moisturizing Ingredients
ROYAL JELLY
EXTRACT

SODIUMHYALU-
RONATE

SUCCINOYL
ATELOCOLLAGEN

UBIQUINONE

CHLORELLA
VULGARIS
EXTRACT

CERAMIDE EOP
Scientific cosmetics based on the
proven
beauty science research
by Hosokawa Micron
Getting Right
Inside the Skin

How to deliver beauty ingredients
right into the depths of the stratum
corneum? PLGA nanocapsules with
high permeability and long
sustainability do just that,
placing the highest emphasis on
improving skin quality.

No matter how great an ingredient may be,
if it can't get inside the skin,
it can't carry out its role. PLGA nanocapsules have the
miniscule sice of 140 nanometers.
This is more than two million times smaller than the size of a pore.
That's how these nanoparticles deliver beauty ingredients
right down to the deepest part of the stratum corneum.
If the particles were any bigger or smaller than this,
they wouldn't be able to work to the best of their ability.
The culmination of years of research data is packed
in to these tiny 140-nanometer particles.
Long-Lasting
Effectiveness

How to keep delivering
beauty ingredients
to your skin in the same condition
for over 24 hours?
By the "time-release method"
of PLGA nanocapsules,
bringing medical research and
cosmetics together.

You could say the structure of these nanoparticles is like a yarn ball.
It's as if yarns were coming untied one at a time, delivering active ingredients
to your skin continuously for over 12 hours. This means that a twice-a-day routine,
in the morning and evening, will constantly replenish your skin with beauty ingredients.
Cosmetic products that care for your skin both while you're awake and asleep?
That's exactly what you get with NanoCrysphere, our line-up of scientific cosmetics.